Partners
What determines a great Company, the Company it keeps!
First Medical Solutions has valuable partnerships that insure the latest in innovation and technology.  Here is a listing of just a few of the partnerships we have with industry leaders in technology and medicine.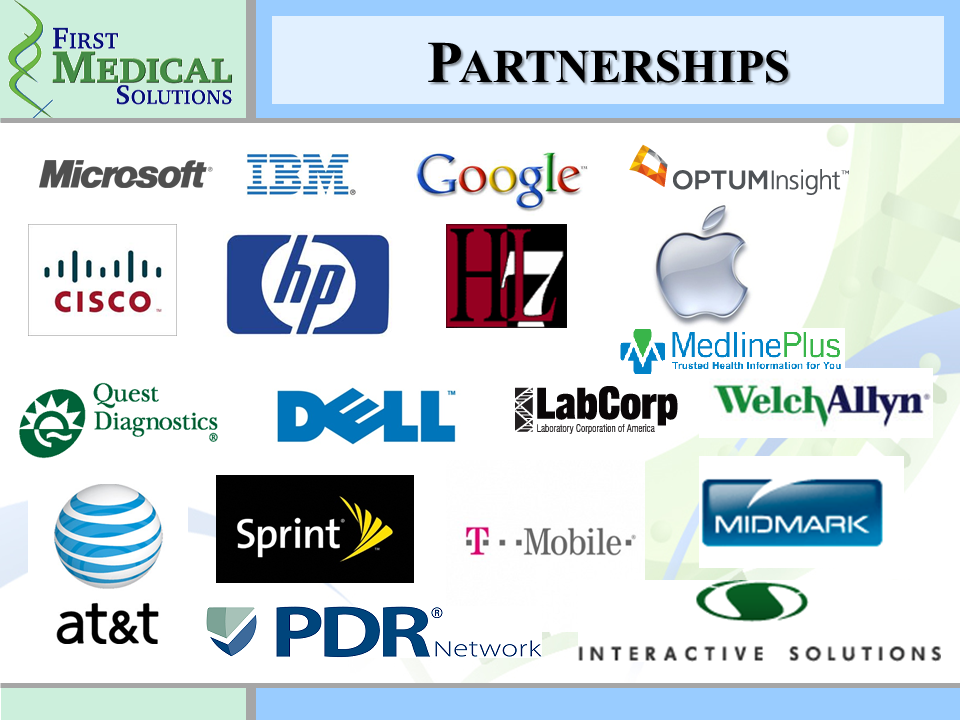 Value Added Reseller

The current Medical Solution Providers to the Healthcare Industry can benefit by becoming our Value Added Resellers. Add FirstEMR® to your product portfolio and present it as part of your service suite. A VAR can provide the Installation/Training and support or later assign that service to First Medical Solutions after the sale.

Independent Sales Consultant (ISC)

The Independent Sales Consultant Program is unique in that it is designed specifically for individuals or small businesses seeking new revenue stream in the rapidly growing Healthcare software industry. All this can be done without the complexity of a VAR relationship. As an Independent Sales Consultant, you will prospect leads, demonstrate FirstSuite®, close deals and work with a local implementation specialist to deploy the installation of the software.

Our dedication to R&D will ensure that you are always selling the latest cutting-edge Healthcare software technology solutions. When you become a ISC, our marketing department will work with you on launching a marketing campaign in your area. We continue as a partner together to help ensure your long-term success as a Consultant.

Referral Partner

First Medical Solutions' Referral Partner Program enables you to work with your clients without engaging in the process of reselling. This Program is great for individuals and businesses looking to benefit from the rapidly growing Healthcare software industry without the responsibilities of demonstrating the product and the closing of sales. This is also a great opportunity for computer consulting businesses to up-sell to their existing clientele. Simply refer a client to us and we'll take it from there. Your efforts rewarded for bring our company an additional sale.
For more information on First Medical Partner Program please contact us:
This e-mail address is being protected from spambots. You need JavaScript enabled to view it.
Call us at 888-514-6337