First Medical Suite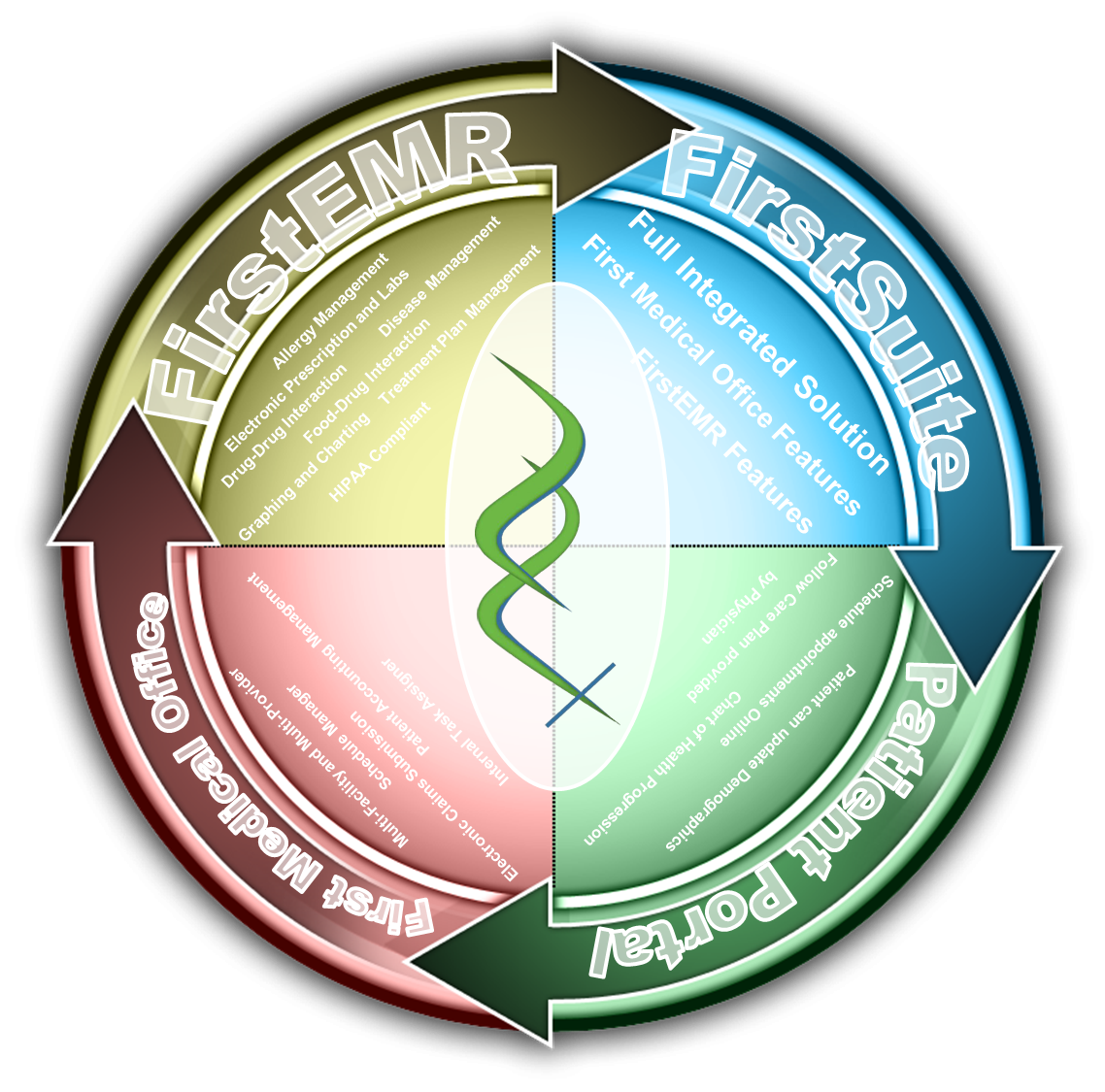 First Medical Suite® is a combined package of features and tools derived from our trademark FirstEMR® software, and the Electronic Medical Records and Practice Management Systems found in First Medical Office®.

Your clinical and practice management sides of the medical practice will work hand-in-hand and better than ever. Our EMR software and Medical Suite software packages are enhancing communication and improving accuracy all over the country in practices just like yours. From start-to-finish, you can rely on First Practice Suite® for improved patient care at optimal business performance.

Document Patient encounters faster with customizable templates and forms that adapt to your preferences, specialty and unique workflows.

Eliminate paper by consolidating consult letters, patient files, Insurance IDs, consent forms etc. with built-in imaging functionality.

Transmit orders and receive results electronically with bi-directional HL-7 compliant interfaces; simplify decisions with automated flagging of abnormal results; analyze track and trend results with built-in graphing functionality. 
Patient Scheduling Encounter & Clinical Documentation Billing and Claims Processing Distinguishing Features Patient Scheduling.Multi-resource Scheduling – Independent time intervals for providers, technicians, rooms and clinical equipment.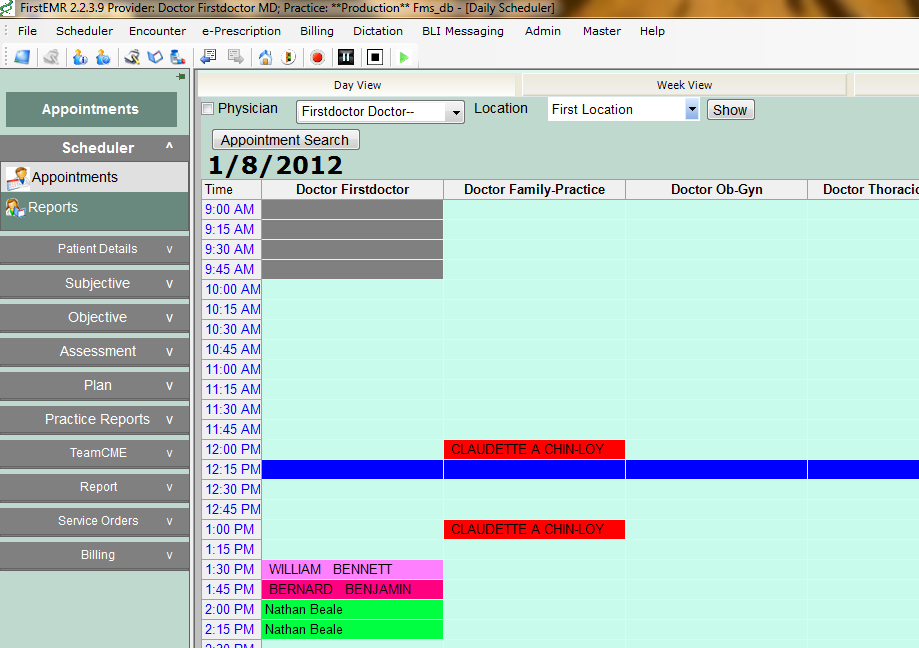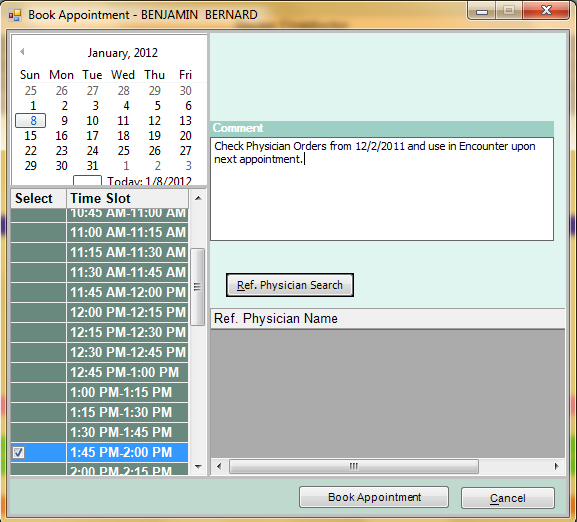 All The Features and Customization You Can Imagine with First Medical Suite: 
Color coded appointment types and time blocks.
Search appointments by date, time, resource, procedure, location or provider.
Schedule multiple patient appointment at the same time.
Real-time eligibility checking.
Schedule recurring patient appointments.
Detailed history for all appointment changes.
Appointment confirmation – Interfaced to automated confirmation systems.
Select the next available appointment based on the patient preference.
Time stamp patients arrival, activation and check out times to track the waiting time.
Access and update all Patient account information instantly.
Simultaneously schedule appointments for multiple doctors, technicians and /or facilities.
Numerous views and reports available including schedule printouts by provider/room, daily/weekly schedule report, monthly density report, and reports for no shows cancellations and reschedules.
Search by day, time, place, provider and appointment type.
Simultaneous display of up to six different dates, providers, rooms.
Effortless modifications to existing appointments with only one or two mouse clicks.
Extensive customization of screen settings, user defined appointment types, appointment durations, over booking features, time slot intervals by provider/room etc.
Separate office and surgical schedule screens.
Automatic recall reminders.
Wave scheduling.
Charge slip and label printing for chart preparation.
Integrated with Managed Care Module.
Schedules delivered to your Tablet, IPad or other handheld devices.
Encounter & Clinical Documentation Practice Information Management.
Comprehensive patient information – including demographics, insurance, appointments, contacts, referrals, notes, case management details and more.
First Medical Suite is Certified!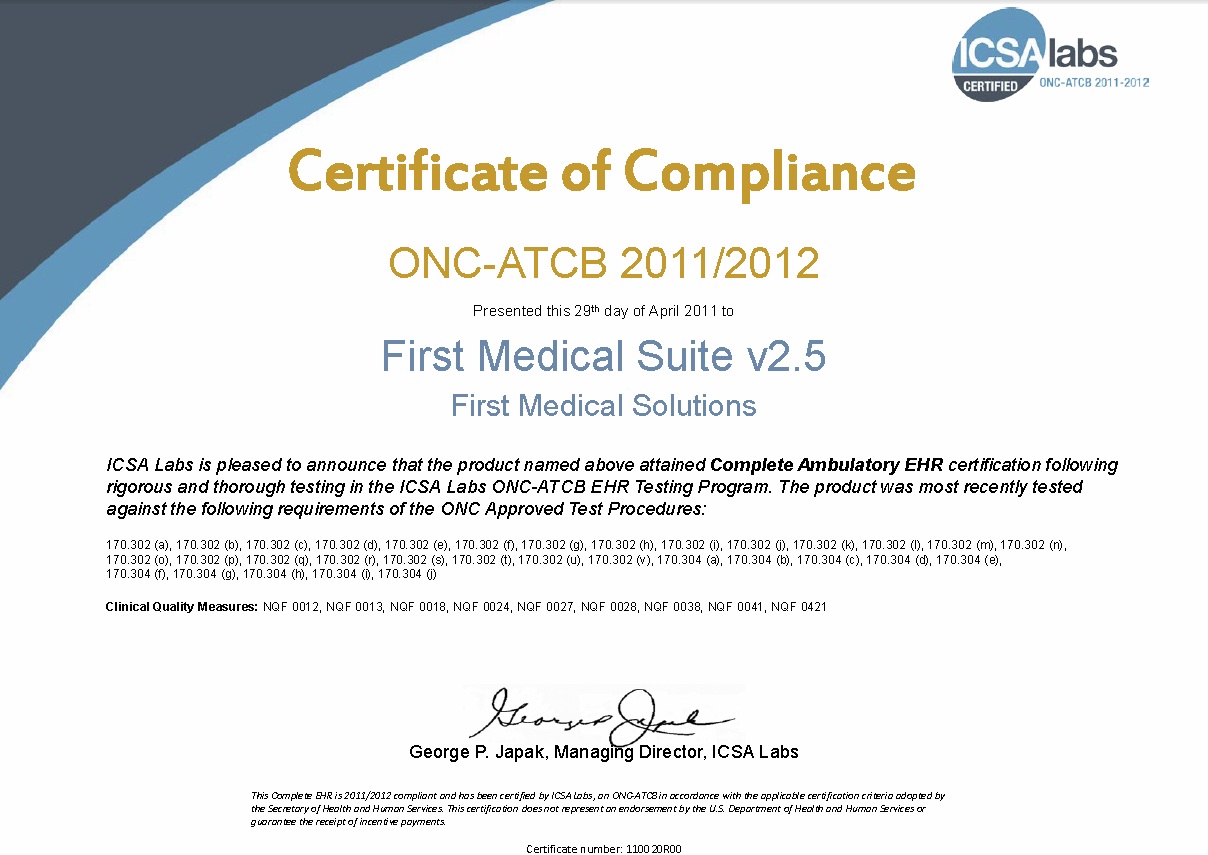 Security -
Security is controlled for each group of users or on an individual user basis, and each session requires an authorized login and password. Audit trail and User tracking features are embedded in the system documents. Be aware of who altered or entered what documents or what information. A daily report can generated with a simple mouse click displaying what changes and what activities were done.


Template Editor -
Templates utilize simple drop-down lists, check boxes, and buttons to facilitate efficiency and to speed up the data entry process during patient encounters. Each template features standard problems, diagnoses, conditions, allergies, medications, and symptom lists for your specialty to help standardize care across the practice and increase physician efficiency.

Coding Optimization -
FirstEMR® has embedded the Alpha II CodeWizard in our applications to help you manage any coding specific issues. Alpha II, scrutinizes your encounters just like a carrier does, so your reimbursement is not compromised or delayed by coding errors.

Instrumentation –
First Medical Solutions has partnered with MidMark Diagnostics. All FirstEMR® applications support connectivity with diagnostic devices like: EKGs, ultrasounds, and those that record vital signs. We did this to create a seamless and more accurate method of capture as well as the viewing, and the recording of patient data at the point-of-care.

Report Generation -
Flexible and easy-to-use. Our EMR solution software composes sentences and paragraphs based on the selections and the entries made during the patient encounter. A specialized integration module creates a wide variety of printed documents automatically, with only a few simple keystrokes.

Charting -
At the heart of the FirstEMR® is a charting system that maintains a complete patient record based on specific clinical input templates completed automatically during the Patient encounters. All data that is captured through this process, and the associated templates, along with the images, such as photographs, scanned documents, lab results, drawings, and/or typed-text or signatures, are all stored in the patient record and are easily searchable and reportable.

E-Superbill -
The FirstEMR®'s Electronic Superbill enhances this billing process by allowing physicians to quickly document diagnoses and services rendered during a patient encounter. The immediate capture of this billable information minimizes the chance that legitimate charges are missed or that supporting documentation or diagnoses are overlooked.

E-Prescribing -
FirstEMR® has partnered with NewCrop, providing an E-Prescribing module that allows physicians to order, record, and transmit a prescription directly to the pharmacist. Our software insures that no information about dosage, frequency, etc., becomes lost in translation or transport.

Drug Interaction -
Allergy, drug and pregnancy interaction review from First Data Bank®, minimizes the risk by automatically checking new prescriptions against a patient's medication list and recorded drug allergies to help prevent interactions and/or medication errors.

Fax Integration -
Fax Integration Services help ensure that prescriptions, documents, template notes, and ICS images are transferred accurately from FirstEMR® to pharmacies, other physicians, labs, and payers.

Lab Order - 
Physicians can order studies and tests. The orders are digitally transmitted directly to the appropriate party. When testing is completed, the results are digitally transmitted back to the originator for review. The order is then processed by our software that finalizes the acceptance and the storage of the transaction in the patient's EHR file.

Workflow Manager -
The dashboard and can be customized for each user, depending on the role the user plays in your practice. Each individual's dashboard assembles a variety of high-priority functions and keeps them easily accessible throughout the course of the day, highlighting functions and alerts that impact ongoing business management issues.

Document Generation -
Flexible and easy-to-use, the software, composes sentences and paragraphs based on the selections and the entries that were made during the patient encounter. This integrated module creates a wide variety of printed documents automatically, with only a few simple keystrokes. WSpell checks and suggests words with the corrected spellings.

Electronic Chart (Face Sheet) -
Physicians can quickly review the Patient's information in one place and at-a-glance within the EMR software. This one-stop overview facilitates a more efficient office visit and gives the Care Giver the information they need quickly. Billing and Claims Processing Comprehensive Demographics Capture - Capture photos, insurance card scans, and additional demographics data to build a complete database of your patient population.

Fee Schedule Management -
Enter an unlimited number of fee schedules, including the ability to differentiate prices by modifier. Automated tools simplify updating, and alerts notify the staff when payers do not reimburse at the contracted rate.

Automated Charge Entry from the Chart -
Automatically post all charges for the day with one keystroke. Our software saves you significant amounts of time for both in-house staff and professional billing services.

Code and Modifier Linking -
Improve charge capture and billable supplies tracking by warning users to bill for items that are normally forgotten. Short lists of applicable modifiers created by the EMR software assist the staff to ensure the correct usage and to improve reimbursement.

Automatic Secondary and Tertiary Insurance Billing -
Prompts and notifies the clerical staff if there are any secondary payers and then automatically queues them for billing.

Powerful Guarantor Cross-Billing Capability –
This function in our EMR software automatically eliminates the need to duplicate patient accounts for Workers Compensation and employer paid visits such as drug screenings, divorced parents, and similar situations. In Depth and Flexible Reporting - Standard reports are created quickly by the application and include a multitude of parameters as well as a convenient search capability for focusing directly on specific data sets.

Comprehensive Reporting -
Detailed reports integration with Crystal Reports. Searching, and graphing functions in the software give users the flexibility to track activity, review practice data, analyze performance, and import custom reports.

Recall Reporting –
User-defined recall types allow for patient follow-up. Users may print lists, letters, and mailing labels based on a variety of recall criteria.

Post charges and Co-Payments from the Scheduler – First Medical Suite® will automatically adjust the payment showing the charges captured from the Scheduler, (front reception desk), if the co-payment was made by the patient at that time.

Distinguishing Features Choice of Devices – 
Utilize the latest technologies such as: wireless laptops, tablets, IPads or PCs.

Customized Workflow -
Ability to modify each user's workflow to match needs, preferences, and priorities Windows Design – The familiar look and feel of the Windows environment helps to speed up the training process and gives your users all of the options available and seamlessly integrates to other MS Office products.

Charting by exception -
Saving time and reducing data entry, providers can document by beginning with standard entries and altering selections as necessary Standards - Programmed in industry standards such as HL7 and XML, ensuring easy use in data exchange and reporting Minimal typing - Point and click documentation, instant document generation, and common terminology means minimal typing and faster encounter times.

Precise Reporting -
Practices can view or evaluate their clinical data quickly and effectively with FirstEMR®'s easy-to-use reporting tool. Even beginners can extract customized reports with just a few simple clicks.

Interoperability - 
Seamless, standardized interfacing with diagnostic devices, labs, hospitals, and more gives a practice the options it needs to interoperate within HIT.

Remote Access -
Accessing the system from home, from the hospital, or from any practice location increases productivity, efficiency, and user satisfaction.

Flexibility -
Flexible is designed into every area of our software. From templates and workflows that can be easily modified, to color-coded screens, user roles, customized reports, our solutions provide the end-user with features and options that improve medical care.

Integration -
A full vendor, a single database and platform, a single log-in, consolidated reporting, and much easier maintenance.


Educates and Informs the Patient about their Medical Condition - Offer language-appropriate pamphlets to your patients.

Offer online tutorials, videos and other medical information to patients concerning their medical condition or diagnosis. Connect directly with Pharmacies – Our software makes it possible to know that the prescription the Doctor ordered for the Patient is available at the pharmacy prior to the Patient leaving the Practice.

Our software notifies the Pharmacy in advance and utilizes E-Prescribe. Improves Documentation Quality - All documentation is in Crystal Report Write and are customizable, legible, organized, complete.

Improve Patient Communication and Care with First Medical Suite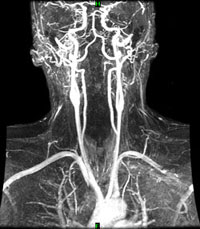 First Medical Suite facilitates better patient communication - Provide timely and relevant information to patients quickly and accurately.

Built-in Protocols - Patients are reminded of age-specific physicals and other medical history-based checkups and consultations.

Improved Medication Management - Formularies that are insurance approved are recommended directly in the software.

Enhanced Efficiency by the Digital Signing of Charts - One click signing of charts right in the EMR program.

Benefit Increased Productivity and Response Times Your organization will see improved productivity as a result of the many processes that become automated through the use of FirstEMR® technology.

Manual tasks, like the pulling or filing of old fashioned paper charts is replaced by simply clicking a patient's name in the EMR application.

End-of-day reporting becomes much easier as reports can be generated directly from the EMR system.

Lab and imaging results can be placed directly into the EMR software, thereby making it easier for users to access the information.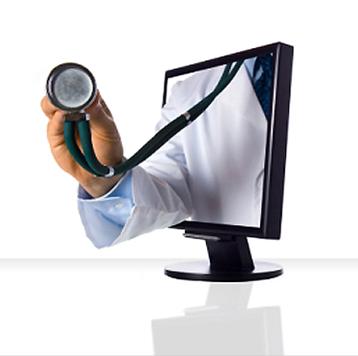 The Integration of Patient Information with compliant diagnostic devices enables users to input results and findings directly into the EMR. Documents and forms are made digital by our software and can be automated. This saves time and money and increases productivity.

Increase Revenue and Decrease Overhead Our EMR software can increase your revenue by providing your physicians with better coding recommendations. This enables the Doctors to offer new services to their patients.

E/M level coding assistance, as used in our EMR, can be an incredible financial benefit, especially in family practice, pediatric and internal medicine practices. In fact, a recent study by Medical Economics Magazine stated that "a physician not coding to the maximum E/M levels may be losing $40,000 to $50,000 annually". Using an EMR solution, like FirstEMR®, enables a practice to reduce their physical storage space by drastically reducing the amount of paper used for each patient. This can translate into utilizing new-found office space and making it available for treatment. Eliminating the wasted storage space by eliminating old paper charts makes sense and saves money.

FirstEMR® , and our other top-notch family of EMR solutions, improve insurance re-imbursement results. Better coding and billing procedures increase your revenue. Our EMR software will help you do just that. Use our technology to be in closer touch you're your patient's treatment plans and filing their documentation. Our EMR applications help you do this at just the right time which can help maximize the reimbursement. This helps the physician run the practice more like a business. Increased Profit First Medical Solutions and our cutting-edge technologies and software improve care, overall patient satisfaction, and an organizations public image. These all contribute to higher profits as a result of increased patient referrals and better patient retention.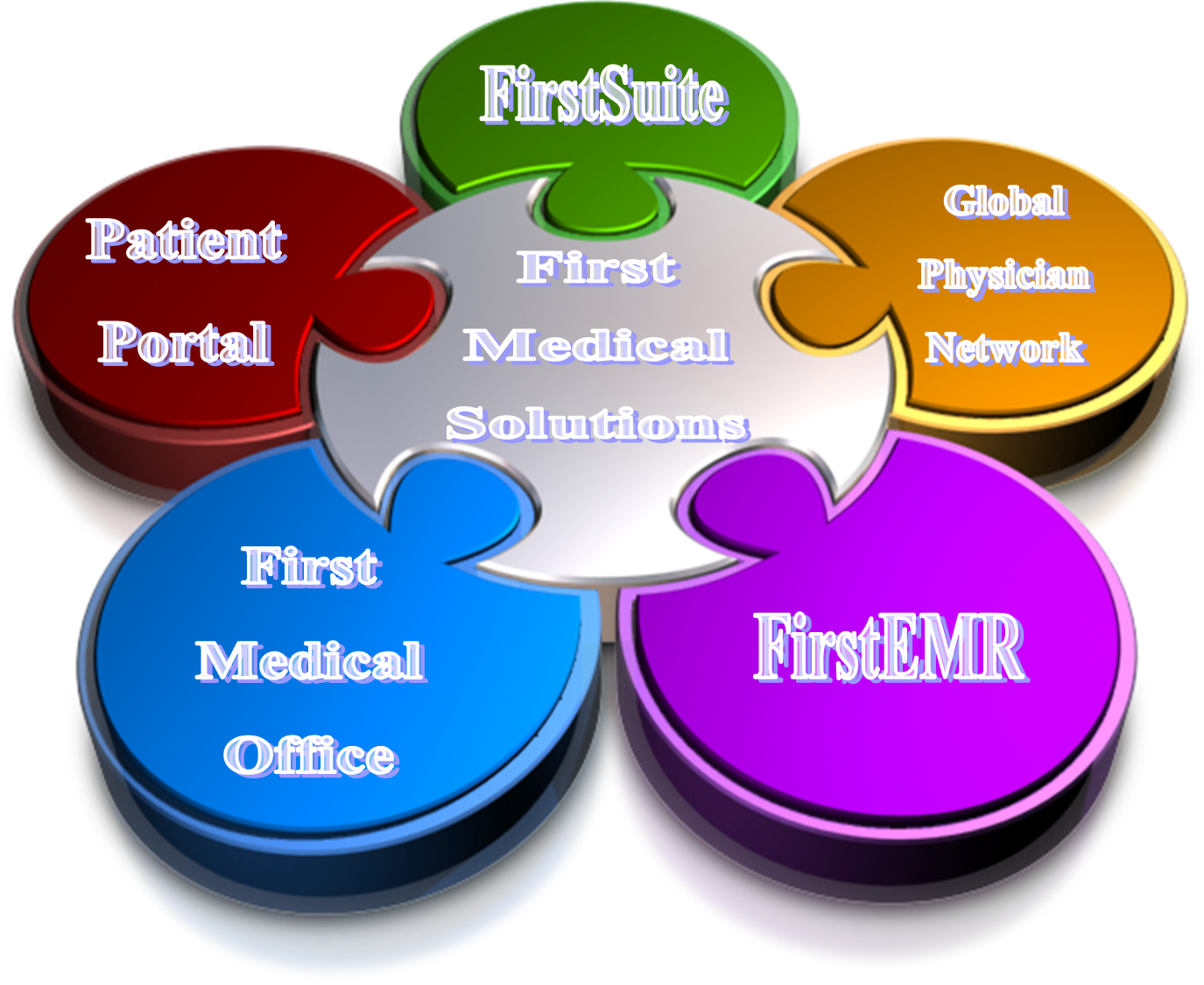 (Read More about our EMR) - First Medical Solutions Flyer
or Give Us a Call at 888-514-6337