Don't be fooled...Not all EMR's are Certified!
Are you Concerned with Meaningful Use and if your EHR and EMR software you presently use will meet the requirements as stipulated by the Federal Government? You're not alone! Many EMR's especially the "Free" Versions are not certified at all.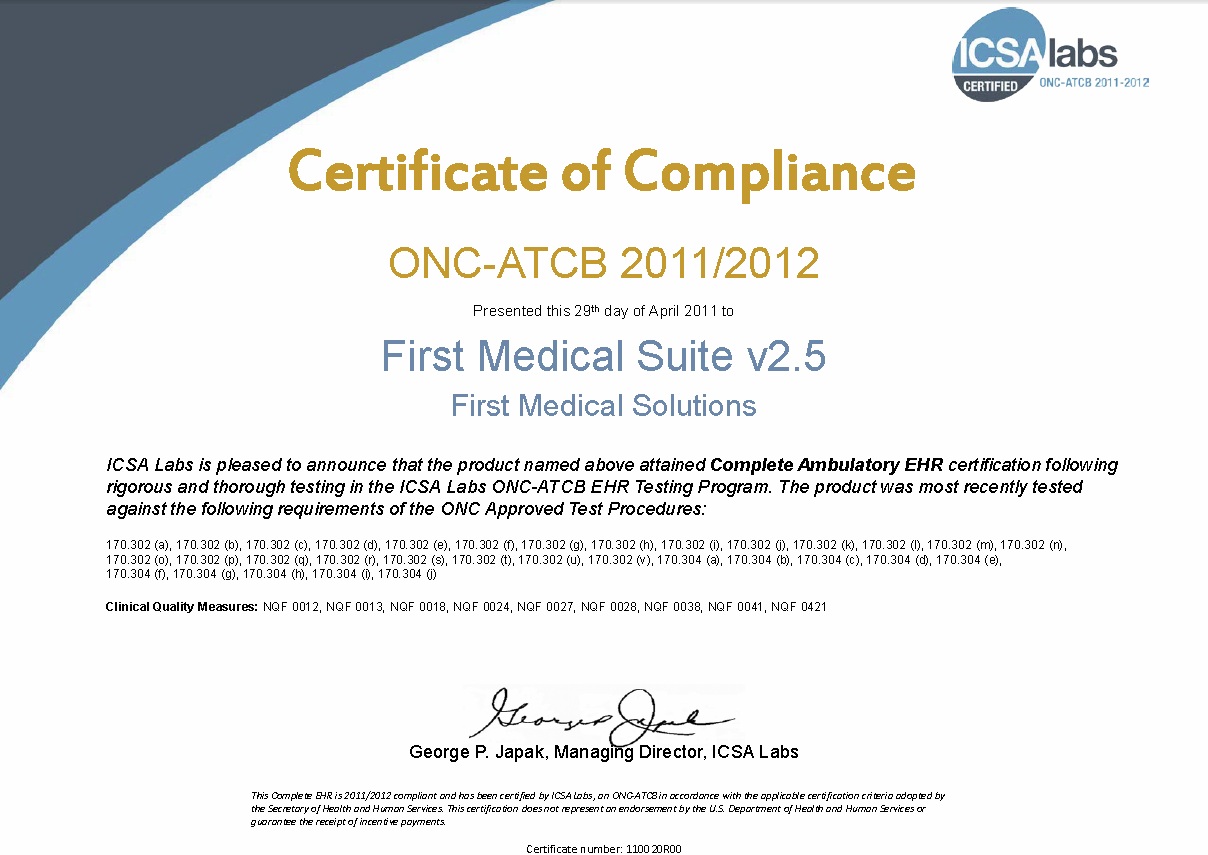 First Medical Suite®
V2.5 is 2011/2012 "Complete Ambulatory Certified" as an approved EHR software solution by the world recognized ICSA Labs.
First Medical Suite® withstood rigorous testing by ISCA Labs
You can rest easily knowing that First Medical Suite EMR solutions and modules are qualified

and meet the requirements necessary to be compliant.
Back to search Notice:** (see note below to assure the latest information)
CERTIFICATION CRITERIA DETAIL VIEW
First Medical Solutions - First Medical Suite 2.5
Certifying ATCB: ICSA Labs | CHPL Product Number: EHRX-FIRSTMEDIC-2011
Classification: Complete EHR | Practice Setting:Ambulatory
Additional Software Required:Microsoft SQL Server, Newcrop
ONC HIT Website | Privacy Policy
Last Modified Date: 03/24/2012
The information on this page is currently hosted by the HITRC and its Partners under contract with the Office of the National Coordinator for Health Information Technology.
** (Be sure to Visit the Government Website to get the latest Certification Information directly. The above is dated as of 04/2012 and revisions will be found on the official Government source and not this webpage.)